"In Bloom," a celebration of spring, is now open at the Bellagio Gallery of Fine Art in Las Vegas.
The collection of 30 works, on display through Sept. 10, explores themes of rejuvenation, humanity and collective change. It includes still-life and landscape paintings as well as kinetic and large-scale sculptures by nationally and internationally renown artists.
The gallery collaborated with the Tia Collection from Santa Fe, N.M, to assemble art from the 20th century American Southwest.
The gallery's entrance serves as an immersive corridor with lush imagery and playful neon encouraging guests to "live life in full bloom." Magenta, orange and yellow walls define a luminous mood in the two-room gallery.
The exhibit
Abstracts by painter Regina Bogat are coupled with works by sculptor Karla Black. Representing figurative and symbolic works are Martine Gutierrez's three photographic self-portraits that confront ideas of globalism, identity and femininity, and Yinka Shonibare's large-scale "Bling Painting" comprises 27 round discs on a golden backdrop.
James Lavadour, painting with layers of glaze washes, reimagines mountainsides from different perspectives in "Sunflower," while Ralph Meyers' "Early Spring, N.M." conveys the contrasting colors of an awakening desert.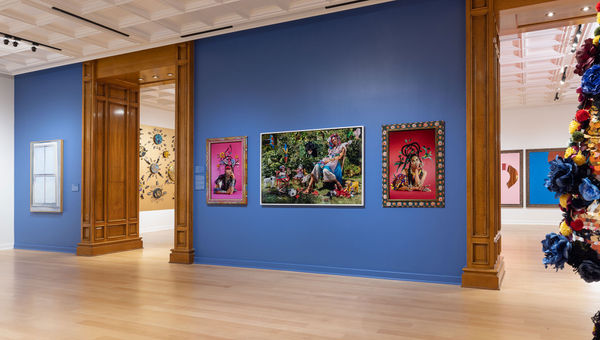 Martine Gutierrez's three photographic self-portraits are among the work displayed in the Bellagio Gallery of Fine Art's "In Bloom" exhibition. Photo Credit: Jenks Imaging
"'In Bloom' connects our shared experience of seasonal change and rebirth to artworks that either address ideas of transformation directly, subversively or abstractly," said Demecina Beehn, director of art and culture for MGM Resorts International. "With this exhibition, we ask our audience to consider their perspective around the new growth that comes after a cold winter."
The Bellagio Gallery of Fine Art is open from 10 a.m. to 6 p.m. daily. Tickets are $20 (plus tax and fees) for adults and $17 for Nevada residents, seniors age 65 and older, students, teachers and military with a valid ID.