ORLANDO — Later this year, Epcot will be the epicenter of the Disney100 celebration of the Walt Disney Company's 100th anniversary as the celebration moves to the Walt Disney World Resort.
Fall will also bring much progress to the multiyear transformation of Epcot, with the opening of Journey of Water, Inspired by Moana as well as the completion of Epcot's hub neighborhood. Journey of Water will be an outdoor trail offering guests the chance to follow the journey of water from the skies to the oceans and back again.
Disney made the announcements during a digital media event Wednesday morning.
Disney100 began in earnest in Disneyland in January. The Walt Disney World Resort is still celebrating its 50th anniversary, which will wrap up on March 31. When Disney100 comes to Orlando later this year, Epcot will be its main host.
In addition to the opening of Journey of Water, Epcot's World Celebration neighborhood will be completed this fall. It will be the hub of the park, filled with seasonally changing gardens and home to Communicore Plaza and Communicore Hall. In the hall, guests will have a chance to meet Mickey and friends. World Celebration will also be home to Dreamers Point, an overlook featuring the "Walt the Dreamer" statue of Walt Disney.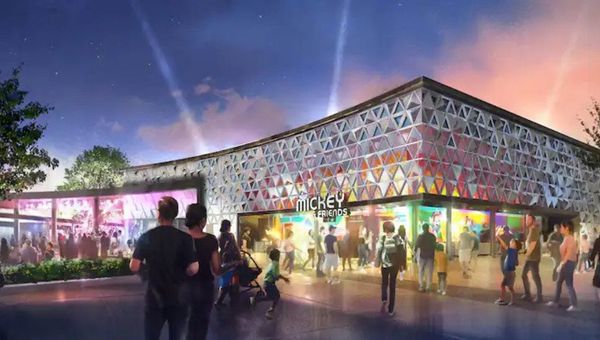 In Communicore Hall, guests will have a chance to meet Mickey and friends. Photo Credit: Disney
The Walt Disney Resort will be home to a number of new and returning favorites this year.
On March 23, an immersive dining experience, Roundup Rodeo BBQ, will open in Toy Story Land in Disney's Hollywood Studios.
Two fan-favorite nighttime spectaculars will return on April 3. "Happily Ever After" will take to the skies in the Magic Kingdom. The show will include projections alongside Main Street, as well as on Cinderella's Castle, giving viewers more of a chance to be immersed in the show. Epcot will again run "Epcot Forever" before a new show comes to the park later this year. Details will come at a later date, including the name of that show.
On April 4, guests will be able to ride Tron Lightcycle / Run in the Magic Kingdom.
2023 also marks the 25th anniversary of Disney World's fourth gate, Disney's Animal Kingdom Theme Park, on April 22. It opened on Earth Day 1998.