Entertainment company Spiegelworld has purchased a tiny desert town for $2.5 million near the Nevada-California state line that it plans to transform into the center of its global operations and a destination for Vegas daytrippers to explore.
Nipton, a one-hour drive from Las Vegas, is in the Ivanpah Valley in San Bernardino County, Calif., on the northeastern border of the Mohave National Preserve, about 12 miles southeast of Primm, Nev., and the Ivanpah Solar Power Facility along Interstate 15. Established as a mining camp and founded in 1905, Nipton sits on a freight railway line and was once a cattle-loading station for nearby ranches.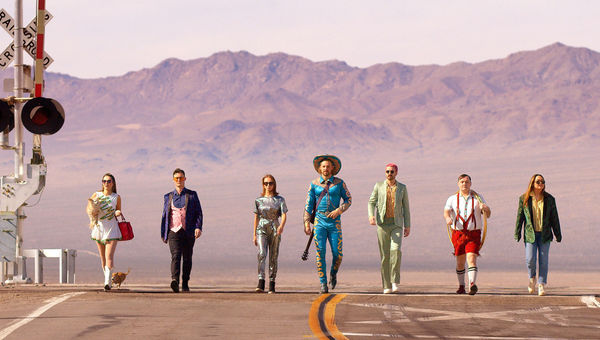 Spiegelworld performers arrive in their new home base of Nipton, Calif. Photo Credit: Spiegelworld
The town has had several owners prior to being acquired by Spiegelworld. The previous owners, who had hoped to make Nipton a
cannabis-friendly resort, imported a few Burning Man festival art pieces
— giving Spiegelworld a start on its ambitious plans. Those plans
include an arts-focused luxury accommodation and restaurant experience
for a limited number of visitors. It will also commission other
large-scale sculptures and implement an artist-in-residence program.
"Spiegelworld performers and artists are already embracing the potential of Nipton and are excited to get involved in the creative direction of the town, the restaurant, accommodation, artist retreats and small festivals we plan to present," Spiegelworld's founder and "Impresario Extraordinaire" Ross Mollison said. "Nipton will showcase the beauty of our circus family, and I simply can't wait to share that community under the magical desert stars."
A creative incubator
A creative team led by comic artists Max Baumgarten and Wayne Wilson will arrive in Nipton next month to develop ideas for a show celebrating the Formula 1 Heineken Silver Las Vegas Grand Prix.
Spiegelworld is the producer of "Absinthe," (Caesars Palace), "OPM" (formerly "Opium," Cosmopolitan of Las Vegas) and "Atomic Saloon Show" (Grand Canal Shoppes in the Venetian Las Vegas). It is resurrecting the 1929 Warner Theatre in Atlantic City as The Hook, an entertainment venue and restaurant opening in June.
With a current population of less than two dozen, the 80-acre town of Nipton has a
five-room hotel, built around the time of its founding and frequented by
silent film star Clara Bow; an original family homestead; general store;
town hall; and schoolhouse.
"Having a rambunctious circus company purchase a small town may sound like the 'Schitt's Creek' spinoff series. But that couldn't be further from the truth," said Mollison, who noted that Nipton reminded him of his native Australia. "When we visited as guests a few years back, we fell in love with the peacefulness, the vast desert vistas and the fireside chats with freight train drivers, miners and workers."
Spiegelworld's Instagram at @CircusTownUSAhttps://www.instagram.com/circustownusa/ will follow the art and antics of the company's desert takeover.