Dinner + Lunch Combo: Moo Shu-Style Ground Pork
with Noodles, Cabbage & Mushrooms + in Hoisin-Peanut Tacos
One order, two meals… no sweat! With our Dinner + Lunch Combo recipe option, you've got all the ingredients for an evening meal covered, plus a marvellous mise en place for a midday feast. Moo shu is a shoo-in when it comes to Chinese-style comfort food. In this streamlined version, cook up the ground pork with mushrooms and cabbage, and give it a classic coating of salty, sweet and, in this case, peanutty notes. It's served with Asian greens and Shanghai noodles at dinnertime, and stuffed into tortillas with extra sauce at lunch—both with deliciously crunchy peanuts.
***Lunch cooking time: 5 min. Calories: 680/serving. **Nutritional facts: Total fat: 34 g | Saturated fat: 10 g | Sodium: 1460 mg | Total carb: 58 g | Sugars: 15 g | Protein: 38 g | Fibre: 7 g. *See below for dinner nutritional facts.


510g
Ground pork


2
Garlic cloves


225g
Sliced mushrooms


150g
Shredded green cabbage


225g
Asian greens (yu choy or gai lan)


225g
Fresh Shanghai noodles


30g
Peanut butter


30ml
Soy sauce (low sodium)


60ml
Hoisin sauce


25g
Peanuts


6
Wheat flour tortillas


8.5g
Nori & Lemongrass spices (dehydrated vegetables, sea salt, seaweed, ginger, sunflower oil, lemongrass)

Contains: Eggs, Peanuts, Sesame, Soy, Wheat

Small pan


Medium pot


Large high-sided pan


Strainer


Oil


Salt & pepper (S&P)


Microwave

<!–
–>

Cook the pork
Bring a medium pot of salted water to a boil. Mince the garlic. In a large, high-sided pan, heat a generous drizzle of oil on medium-high. Add the pork*, mushrooms, cabbage and ½ the garlic; season with the spices and S&P. Cook, breaking up the meat, 4 to 6 min., until browned and cooked through. Add ½ the hoisin, ½ the soy sauce, ½ the peanut butter and 2 tbsp water (double for 4 dinner/lunch portions). Cook, stirring frequently, 2 to 3 min., until the pork is coated. Set ½ the pork mixture aside in the fridge.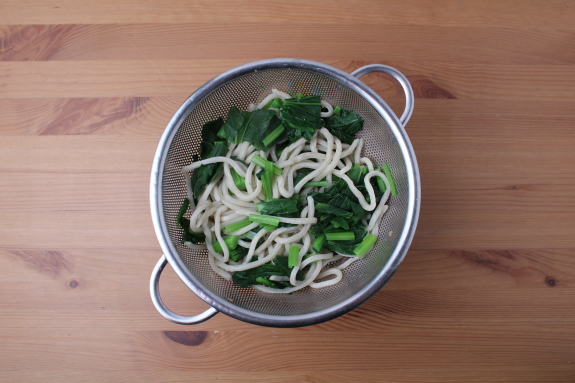 Boil the noodles & yu choy
Meanwhile, remove the bottom ½ inch of the yu choy stems; cut into 1-inch pieces. Add the noodles to the pot of boiling water; stir gently to separate. Boil, 6 to 8 min., until al dente. In the final 2 min., add the yu choy and boil, stirring occasionally, until wilted. Reserving ½ cup cooking water (double for 4 dinner portions), drain and toss with a drizzle of oil to prevent sticking. Set ⅓ of the yu choy aside in the fridge.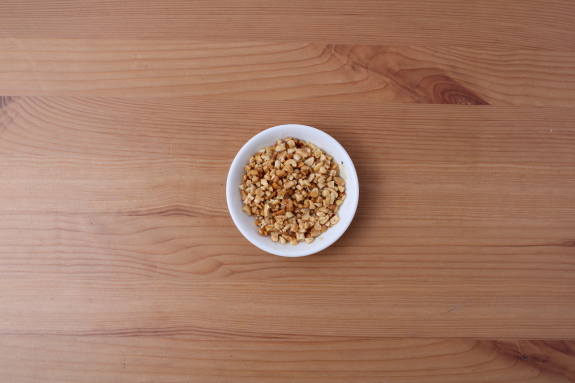 Mise en place
Meanwhile, in a small bowl, make the sauce by combining the remaining peanut butter, hoisin and soy sauce. In a small pan, heat a drizzle of oil on medium. Toast the peanuts and remaining garlic, stirring frequently, 2 to 3 min., until lightly browned; season with S&P. Transfer to a bowl. Set the sauce and ½ the peanuts aside in the fridge.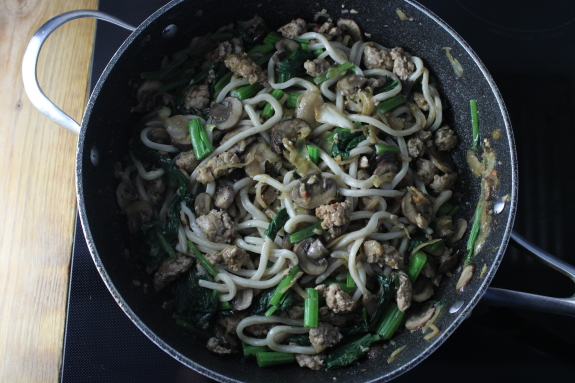 Combine the noodles
To the pan of remaining pork mixture, add the noodles, yu choy and ½ the reserved cooking water. Cook, stirring frequently, 1 to 2 min., until the noodles are coated. If the sauce seems dry, gradually add the remaining cooking water until you achieve your desired consistency.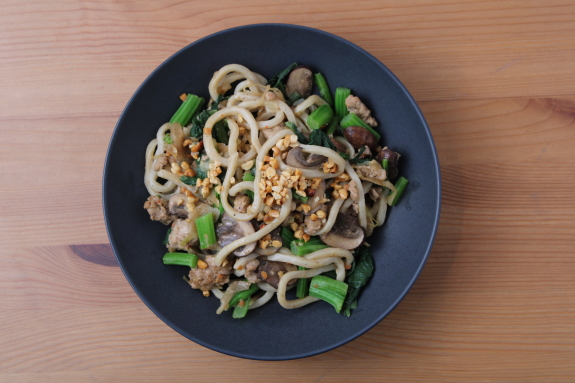 Dinner: Plate your dish
Divide the noodles between your bowls. Garnish with the peanuts. Bon appétit!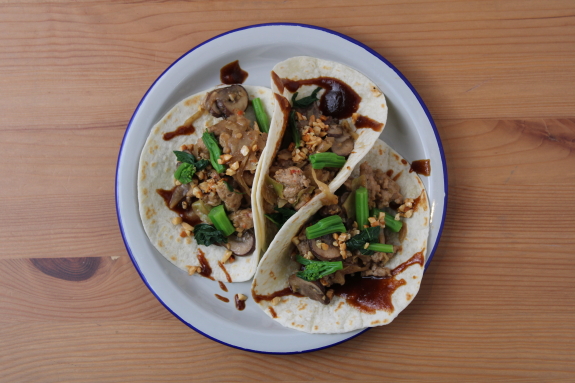 Lunch: Finish & serve
Microwave the reserved pork mixture until warm. Wrap the tortillas in a slightly dampened paper towel. On a plate, microwave, in 10 sec. increments, until warm. Microwave the reserved yu choy until warm. Divide the tortillas between your plates. Top with the reserved sauce, the pork mixture and yu choy. Garnish with the reserved peanuts. Bon appétit!
*Health Canada recommends cooking ground pork to a minimum internal temperature of 71°C.